Reset With a Boot Camp Vacation
"A HIGH INTENSITY, GET YOUR BUTT IN SHAPE RETREAT." - OXYGEN MAGAZINE
Vita Boot Camp, an energizing fitness vacation, will push you to the limit but have you smiling the entire way.
Enjoy a balanced blend of challenging beach workouts, body toning and strengthening as well as relaxing mind body classes to round out your experience.
Get you back on track or push your body to the next level with Vita Boot Camp (formerly Bella Boot Camp). Whether you join us to enjoy a beachside fitness vacation or to shed a few pounds, we're here to help motivate you.
Why Our Guests Attend:
Get re-motivated into fitness and healthy habits
Jumpstart weight loss goals
Shape up and tone the body
Improve fitness level and regain energy
Recharge mentally and enjoy an active vacation
VITA BOOT CAMP INCLUDES
Arrival Day: Arrive by 2pm | Departure Day: Finished by 11am
- Standard Accommodations at The Seagate Hotel & Spa
- 3 Healthy Meals Each Full Day (Dinner on Arrival Day + Breakfast on Departure Day)
*We can accommodate many nutrition needs.
- Approximately 5hrs of Boot Camp Classes Each Full Day
- Welcome Meeting + 1 Boot Camp Class on Arrival Day
-Two Morning Boot Camp Classes on Departure Day
- Choice Of 1: Assisted Stretch Session, Personal Training, Nutrition Coaching or 50 Min Spa Treatment
- Vita Fit Guide with Retreat Journal
- 1 Vita Quick Assessment (done prior to departure - optional, never mandatory): Body Fat %, BMR, Body Age & Measurements
- Free WiFi
- Access To Private Beach Club
- All Taxes + Gratuities for Meals
- Exclusively limited to 10 people each week
Add additional sessions to your retreat: Personal Training | Nutrition
A DAY AT BOOT CAMP
SAMPLE ITINERARY
Morning: Breakfast
8am Beachside Warm Up
9am Medicine Ball Blast
11am Pilates Mat (inside)
Break + Lunch
3pm Kick, Punch + Jump
4pm Yoga Mix
Evening: Dinner, Relax, Pool, Beach or Spa
Structured Schedule
Everyone goes to the same classes throughout the day. Classes range from beach boot camp and medicine ball blast to ballet fusion, resistance band training, yoga, flexibility, balance training and more.
Learn More: Sample Itinerary + Class Listing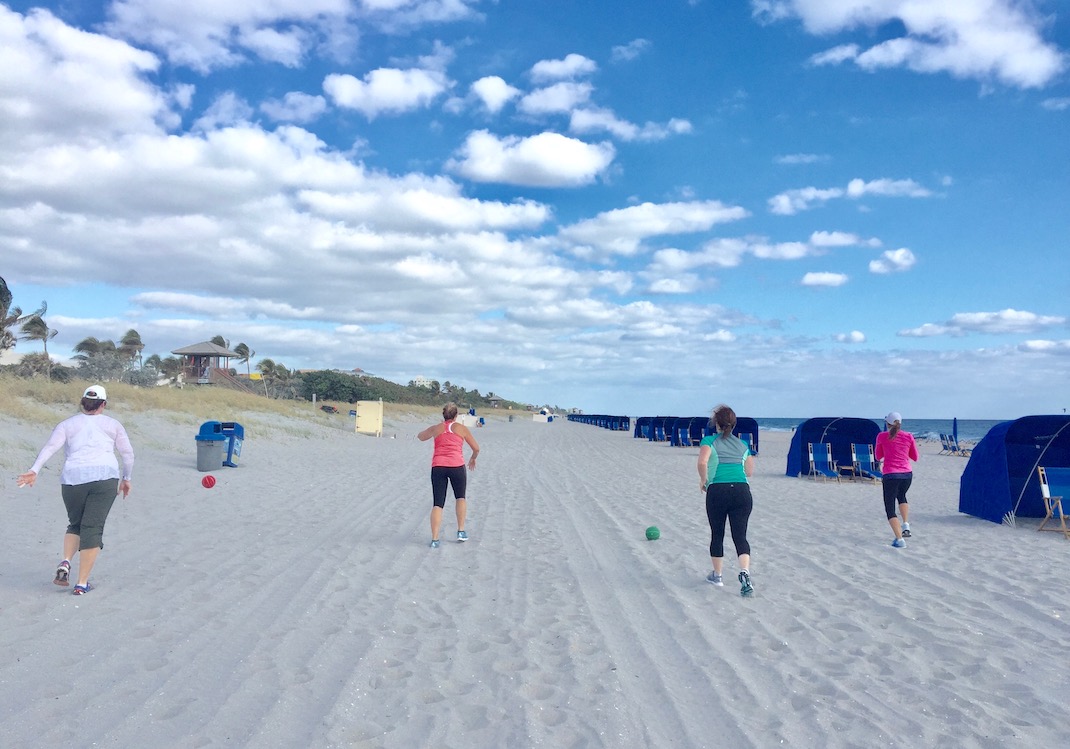 Come join the fun! Vita Boot Camp is open to women and men of all fitness levels. Modifications offered for varying abilities. For those who have NEVER worked out before, we recommend a private fitness retreat.
Classes are held outdoors on our beautiful beaches, at local parks, an outdoor patio area by the pool as well as on site in our private indoor studio.
*Schedule may vary based on weather and temperatures.
relax At the Seagate Hotel
We hold our retreats at The Seagate Hotel & Spa. Enjoy the combination of a fitness vacation paired with sophisticated yet relaxed accommodations. Unwind in your well appointed room after a full day of retreat activities.
Website: The Seagate Hotel & Spa
The Seagate Hotel Amenities:
Full Service Spa & Full Fitness Center, Two Pools, Private Beach Club, Country Club (golf + tennis), Yacht Club, Concierge Services, Business Center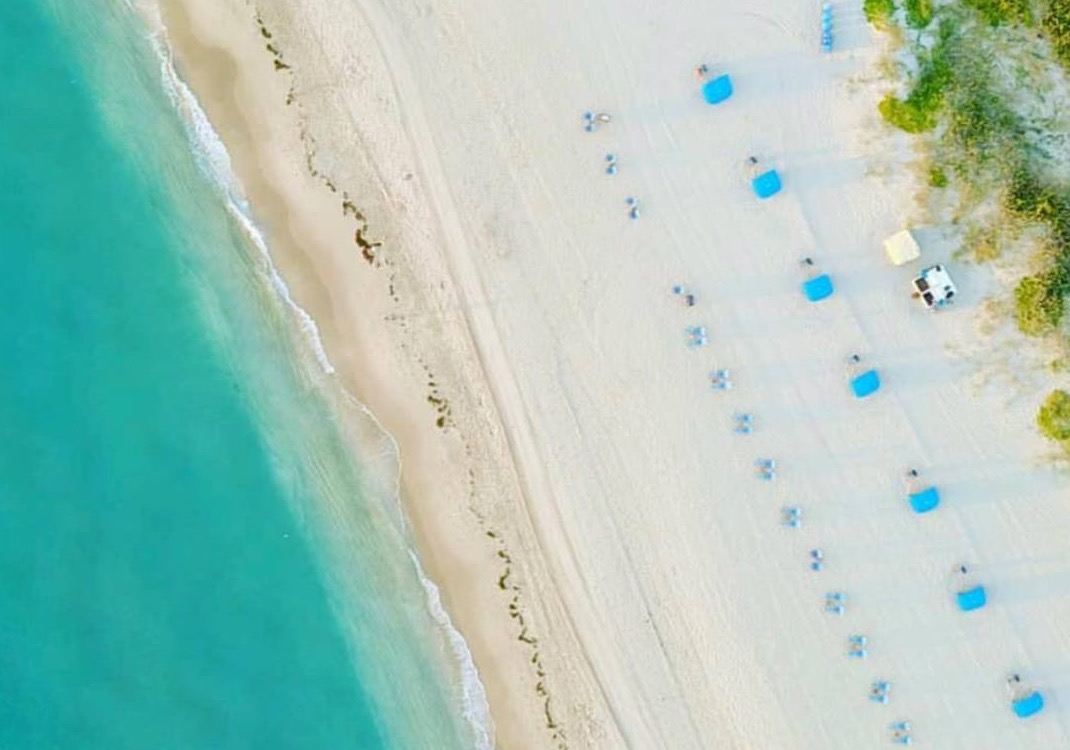 Located in beautiful Delray Beach, FL, our boot camp vacation is conveniently located in between Palm Beach and Fort Lauderdale. We are easily accessible by any of the airports listed below.
Closest Airports
West Palm Beach Intl. (PBI) – 20 mins
Fort Lauderdale/Hollywood Intl. (FLL) – 45 mins
Miami Intl. (MIA) – 75 mins
WHAT OUR GUESTS ARE SAYING
"The perfect jumpstart for me!"
I feel healthy and re-inspired to meet my goals. I booked the boot camp for 5 nights because I wanted half relaxation for my brain and half kick butt weight loss boot camp. I got both and I couldn't be happier! The team is awesome. The classes were fun and doable for all fitness levels. The food, spa and hotel were also all top notch. This might be my new yearly jumpstart vacation!
- Jennifer L.
"Absolutely loved it!"
I signed up for the 6 day boot camp and left renewed, refreshed and reenergized. Not only do you feel stronger physically by the end of it, but it is a full mind/body experience. I really enjoyed the beach workouts in the morning and the classes in the studio (yoga, pilates, salsa, barre) are also amazing as well as the instructors.
- Ana M.
READ MORE REVIEWS: Facebook Reviews

Reach your health and fitness goals with us! Meet like minded people, have fun working out by the ocean and enjoy getting out of your environment and into a beautiful seaside town.
Get re-inspired into fitness, reset healthy habits and get the jumpstart you need with our weight loss boot camp. Book your stay and get the refresher you've been looking for!
VITA BOOT CAMP IN ACTION
Summer 2019 At The Retreat
Our seasonal videos give you a glimpse of some of the outdoor workouts we do at Vita Boot Camp and with our Private Fitness Retreats.
We love getting outside to the beach or various outdoor areas to enjoy the cooler weather before it heats up. Mornings spent working out at the beach are the perfect way to reset body and mind and set the tone for the day. Enjoy a fitness vacation with us!